Real updates on Oil and Russell will come later (end of week?  not sure).
Oil is kind of still at an inflection point though.  However I'm leaning towards bearish and a target of at least $34 but since it's the middle of the week and I don't track short-term oil, especially when it's mid-session no idea right now.
Russell is still hovering around that 1100 level as I said it might (falling volumes etc.) last week.  This is also an inflection point though basically.  It may simply be consolidation but again, I will really try to get a better idea later.  The euro is far more interesting at this moment and deserves an update now (end of last week should have actually).
EUR
Short-Term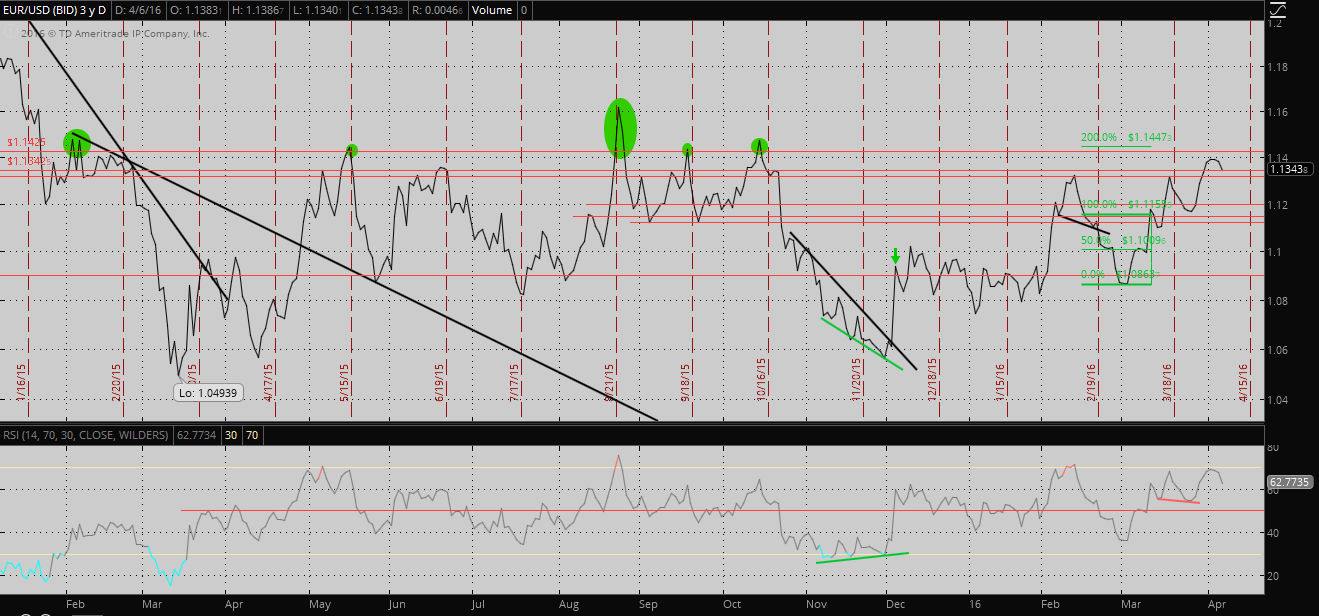 So we're nearing yet another major inflection point.  First off should state that we reached (a while ago) potential target of  1.132.  There is another support point taken at 1.13425 and this is what the Euro is currently trading off of it seems.  I also kind of made a huge failure in not recognizing the potential inverse head & shoulders which has been completing it's right shoulder since mid-march.  Mainly cause I was focusing on the previous pattern but yeah…big oversight there.  So with the completion of such a pattern we should see a target of around 1.1445.  Before this though there is the resistance at 1.1425 which as you can see (green highlights) this has been major resistance for a year now.  We may overshoot it slightly like we did in the past to meet the Inverse H&S target and then start heading back down again…
The RSI is still not oversoldbought (I need to stop writing late at night) and looks to be consolidating/letting off steam at this point.  At the same time it still firmly remains in bull market territory (strongly above 50).  This leaves strong potential to reach 1.1425 and as such I would say this is a definite price target.
I guess we'll find out fairly soon 🙂